Avara's rental apartments in Joensuu
Reliable rental living for all life situations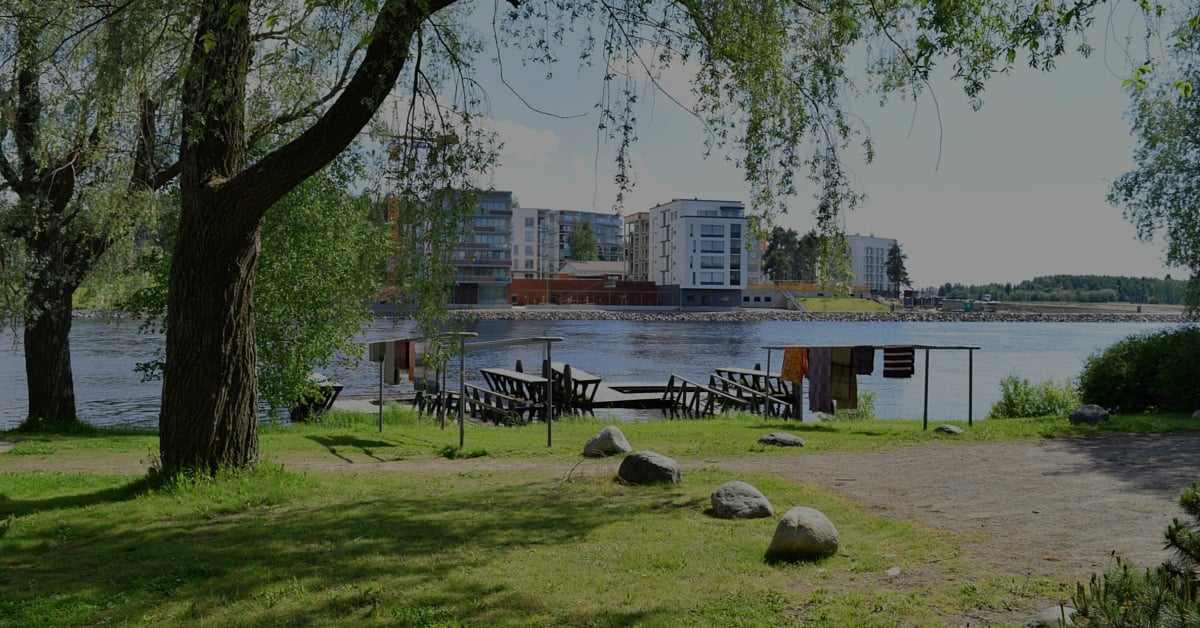 Versatile Joensuu suits even the most demanding residents
Eastern Finland's second largest city is a versatile municipality that is home to 75,000 residents. Joensuu offers casual festival vibes as well as peaceful countryside atmosphere by the river. The area's many sides can be seen in the services on offer in Joensuu, and the city's extensive education and cultural offerings will draw you in.
Joensuu suits everyone, regardless of their life situation. The city offers many events for families, such as Vekararokki, the kids' version of the adults' Ilosaarirock festival. Students can enjoy the high-quality education at the University of Eastern Finland and Karelia University of Applied Sciences. Joensuu is also an excellent outdoor city that offers a wide variety of trails, starting from the very heart of the city.
Avara's Joensuu locations are well-suited for students, families and residents who love culture. Joensuu combines an active lifestyle with relaxed and peaceful living.
Avara's rental apartments in Joensuu
As the second largest city in Eastern Finland, Joensuu combines the services and extensive educational possibilities of a big city with idyllic beach views and a quiet countryside feel. Avara's rental apartments in Joensuu offer cozy alternatives for many types of residential needs. For a family looking for a peaceful environment, we recommend Hammaslahti, Karsikko or Kontiolahti. A student who is looking for comfort and good transit connections should check out our Niinivaara location.
Avara's rental apartments in Hammaslahti
The row house homes in Hammaslahti are located in a peaceful countryside setting, in the middle of idyllic forest and field landscapes. Each home has a sauna. Hammaslahti is part of the former Pyhäselkä town, approximately 25 kilometers from Joensuu city center. The town center is a few hundred meters away and has all basic services: a grocery store, a health center, a library, a kindergarten and schools from elementary to high school levels. Gyms can be found at the Hammaslahti and Pyhäselkä schools, just a couple of hundred meters away. The Pyhäselkä school yard even has access to a frisbee golf course. Hammaslahti also has cozy playgrounds and a dog park.
Avara's rental apartments in Karsikko
Karsikko is a popular area, mainly full of single-family houses. It is approximately four kilometers from downtown Joensuu, on the south shore of the Pielinen River. Avara has several cozy row house locations in the area. The apartments on Valkamantie and Ojalehdontie are located just off the Iiksenjoki River that forks off the Pielinen River, an ideal spot for someone who enjoys canoeing. Karsikko also has a beach. Everything you need in your day-to-day life is within walking distance: large grocery stores, a health center, a kindergarten, elementary and middle schools as well as a library.
Avara's rental apartments in Kontiolahti
The row houses in Kontiolahti are surrounded by idyllic countryside views, less than ten kilometers from Joensuu city center. Each apartment has a sauna. The surrounding nature offers versatile possibilities for recreational activities and outdoor exercise. The area has good services; for example, large grocery stores, a kindergarten and a library are within one kilometer from Avara's location. Lehmo School is less than two kilometers away.
Avara's rental apartments in Niinivaara
The popular Niinivaara area is an excellent choice for a student who values comfortable living, for example. The apartments are one-bedroom apartments and each one is equipped with a sauna. The university is less than two kilometers away and easily accessible by bike. Joensuu city center and the railway station are less than a kilometer away. The beach at the Pielinen River is half a kilometer away and Ilosaari is less than a kilometer away. The nearest grocery stores are just around the corner. The central hospital is within walking distance, so the location is also a great choice for someone working at the hospital.
Avara's rental apartments in Noljakka
Noljakka is one of Joensuu's largest neighborhoods. Avara has cozy rental apartments in small apartment buildings, row houses and a larger apartment building in the area. Noljakka has great connections to various areas of the city. For example, the airport is around six kilometers away, the university is three kilometers away and the city center is, depending on the location, 3–7 kilometers away. It's convenient to get around by bike thanks to the great walking and biking paths. The area borders on Pyhäselkä Lake and has great opportunities for outdoor activities. The Aavaranta outdoor paths are perfect for runs, and the natural reserve and bird observatory station and bird tower entice you to explore the beautiful natural area. Most of Avara's locations in Noljakka are next to the popular Sinkkola petting zoo. As for services, the area has grocery stores, a health station, a pharmacy, kindergartens and an elementary school, among other basic services.
Avara's rental apartments in Utra
Utra is known for its beautiful wooden houses and is in a spectacular location by the Pielinen River, seven kilometers from Joensuu city center. Avara has nice, small apartment buildings and row houses in this peaceful area. Versatile recreational and outdoor sport opportunities are on offer at the Utra islands recreational area, Utra ridge, artificial turf and the frisbee golf course. Grocery stores and a school are within walking distance from all of our locations, but our Lasinpuhaltajantie location is right next-door to a large grocery store. Even Joensuu city center is easily accessible.
Avara's rental apartments in Vehkalahti
The beautiful and quiet Vehkalahti is a residential area by Pyhäselkä Lake, just a couple of kilometers from Joensuu city center. Avara has apartments in a quaint, small apartment building. The Pyhäselkä beach landscape invites you to swim and enjoy the outdoors. It is also possible to go ice swimming in the winter! Vehkalahti has a large grocery store and a kindergarten. The nearest elementary school is one kilometer away. Even the services in Niinivaara are within reach on foot or by bike.