Are you looking for an apartment in the capital region? Check out the available apartments
Rental apartments by city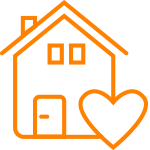 Flexible and reliable rental living
A rental apartment is an easy and flexible solution for living. As a renter, you do not need to worry about renovations, shareholder meetings or other matters that burden an owner. With Avara, you can trust the landlord to take care of its responsibilities and you can concentrate on carefree living.

Versatile and cozy rental homes around Finland
Our cozy and high-quality rental homes have modern equipment and they are available from the southernmost Finland all the way to Rovaniemi. Our apartment selection currently includes almost 8,000 high-quality rental apartments.

Changing apartments is easy and flexible
With Avara, you can easily change from one apartment to another as your life situation changes. We aim to make your apartment change as effortless as possible, whether it's a matter of finding a larger apartment or moving to another city.