Avara and Senate Properties have reached an agreement on the sale of plots in Central Pasila. Avara will carry out two new property development projects consisting of 44 affordable, subsidised and 56 non-subsidised rental apartments. Construction is set to start in spring 2023, and the new apartments are expected to be completed during 2025.
Energy-efficient apartments in rapidly growing Pasila
Construction of the Ratapiha railway yard blocks began in 2018, and by 2030, the area is expected to provide housing for over 3,000 residents. Avara's new property development projects are located close to excellent transport connections and services, in block number 17110 north of the Mall of Tripla. The same block is complemented with owner-occupied and rental apartments, which are financed with long-term interest subsidy loans. Furthermore, the neighborhood is expected to have a daycare centre and a school in the coming few years.
It is a pleasure to be a part of the development of this diverse housing project in rapidly growing Pasila. These new properties are a part of Avara's own project development, and we are also responsible for designing the block's parking facility. The development projects will include energy class A rental apartments ranging in size from studios to three-room apartments, says Tuomas Rantsi, Chief Operating Officer at Avara.
The market interest towards Ratapiha railway yard blocks has remained steady and strong, and it continues to grow as the neighbourhood is completed block by block. The area's transformation from an old railway yard to a new residential neighborhood and a service and transport hub can already be seen. It is great to see the construction of this block get well and truly underway, says Leena Palokangas, Sales Manager for Senate Properties.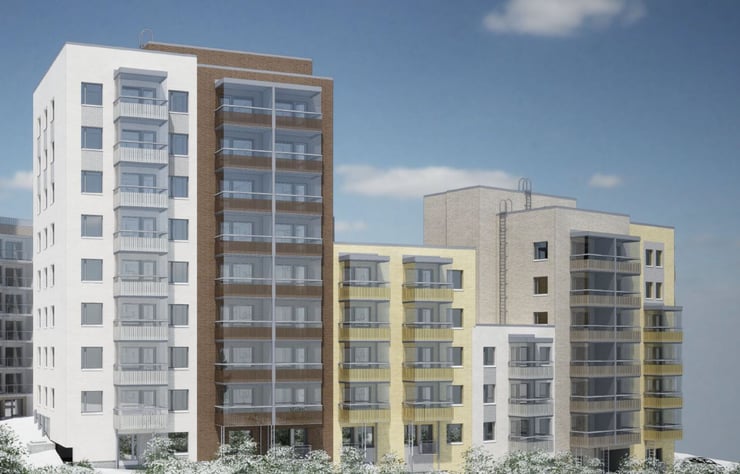 Avara's new property development projects will be built at different heights along Tulistimenkatu. Photo: Arkkitehdit Hannunkari & Mäkipaja Oy (architect's illustration)
The new property development projects complement Avara's two different residential portfolios
44 of the apartments in the Ratapiha development project will complement the Avara Vuokrakodit I fund, which invests in affordable, subsidised, housing. The remaining 56 apartments will become a part of the Avara Residential Fund II, which invests in non-subsidised housing. Both Funds invest in Finland's growth centres and investors consist of professional institutional and family office investors.
We strongly believe in the demand for rental apartments in the Central Pasila area now and in the future. Few residential areas can offer such a great location, diverse transport connections and comprehensive services. The apartments to be built in the Ratapiha will be a great addition to both funds, says Avara's Chief Investment and Financial Officer Harri Retkin.
For more information, please contact:
Tuomas Rantsi, Chief Operating Officer, Avara Oy
+358 40 838 5276, tuomas.rantsi@avara.fi
Harri Retkin, Chief Financial and Investment Officer, Avara Oy
+358 40 704 6014, harri.retkin@avara.fi
Leena Palokangas, Sales Manager, Senaatti-kiinteistöt
+358 50 308 9158, Leena.Palokangas@senaatti.fi